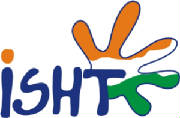 Registered under
Society Registration Act,1860
Society for Hand Therapy(Maharashtra State,Mumbai 2009 G.B.B.S.D. 2135)
FULL MEMBER
OF
INTERNATIONAL FEDERATION OF SOCIETIES FOR HAND THERAPIST

Hand therapy is the art and science of rehabilitation of the upper quarter of the human body. Hand therapy is a merging of occupational therapy and physical therapy theory and practice that combines comprehensive knowledge of the upper quarter, body function,and activity. Using specialized skills in assessment and treatment, hand therapists promote the goals of prevention of dysfunction, restoration of function and/or reversal of the progression of pathology in order to enhance participation in life situations for individuals with upper quarter disease or injury.


Hand therapists are certified or licensed occupational therapists or physical therapists,who through advanced continuing education, clinical experience and independent study have become proficient in the treatment of pathological upper-quarter conditions resulting from trauma, disease, or congenital or acquired deformity.

9th Triennial Congress of IFSHT in New Delhi, India
from March 4th to 8th, 2013.
This will be a joint congress with IFSSH.
For more details, please visit